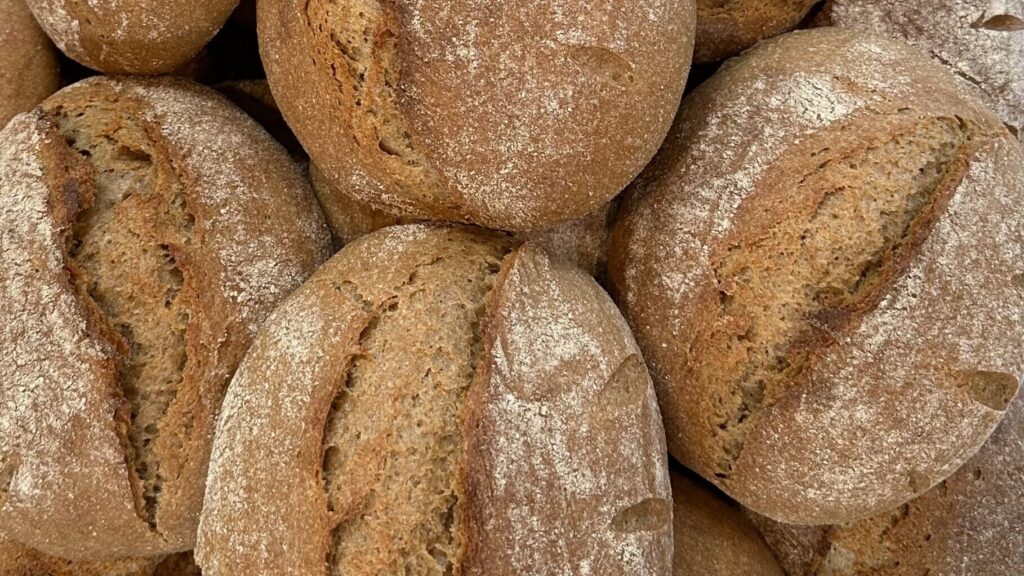 Why Sourdough?
At Ancient Grains Bakehouse we naturally leaven our sourdough products. The natural, airborne yeasts in our sourdough pre-digest the proteins and starches in grains. This process creates the bubbles which make the bread rise.
The fermentation process breaks down the sugars and starches giving sourdough a lower carbohydrate content, which can help with regulating blood glucose levels.
Fermented breads contain natural mold inhibitors that support a longer shelf life. They also contain phytase which neutralizes phytic acid and increases the bioavailability of nutrients.
Fresh Bread Care
Fermented breads contain natural mold inhibitors which help to create a longer shelf life. Fresh bread should be stored in paper or a cloth bag at room temperature. For optimal results, put the paper wrapped bread into an unsealed plastic bag or wrap in Bee's Wrap. Fresh bread can keep at room temperature for up to one week.
Do not refrigerate bread! Refrigeration rapidly dries bread out.
Our bread also freezes well. Simply wrap whole loaf, partial loaf or sliced bread in parchment or freezer paper and place it in a freezer safe plastic bag before freezing.
To refresh, thaw at room temperature for 1-2 hours then wrap the paper covered bread in foil and place in a 275° oven for five to ten minutes. Frozen sliced bread can be placed directly into the toaster.